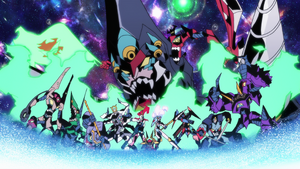 Appearing only in the film The Lights in the Sky are Stars, the Tengen Toppa Gunmen are galaxy-sized Gunmen for Team Super Galaxy Dai-Gurren that appear after Tengen Toppa Gurren Lagann is torn apart by the Granzeboma. Contrary to geniune "Gunmen", these collosal mechas are comprised of pure Spiral Energy, the only connection to their normal mechanical counterparts being the cockpits that each pilot operates from. They are the result of Team Dai-Gurren combining the Laganns they found in the Galactic Spiral Abyss with their own Space Gunmen, resulting in truly inconceivable mechas.


List of Tengen Toppa Gunmen
Edit
Picture Gallery
Edit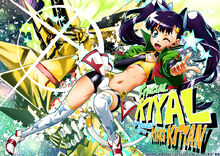 Ad blocker interference detected!
Wikia is a free-to-use site that makes money from advertising. We have a modified experience for viewers using ad blockers

Wikia is not accessible if you've made further modifications. Remove the custom ad blocker rule(s) and the page will load as expected.