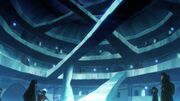 Jeeha
is an underground village located relatively close to 
Littner Village
. The people there had access to electricity and raised Pig-Moles for food. The chief is characterized as being as large as he is a jerk.
Notable Residents
Kamina (deceased)
Giha Village Chief
Kamina's Dad (deceased)
Simon's Mom and Dad (deceased)
Kamina's Mother (presumed deceased)
Trivia
The word Jeeha must be a reference to the word 'digger' because of the variety of diggers or the last name of Simon.
Simon isn´t the only one who has the last name of the village. Yoko,Rossiu,Gimmy and Darry also has.Probably,the people of the underground villages, all has the same name.